Our Chiropractic Techniques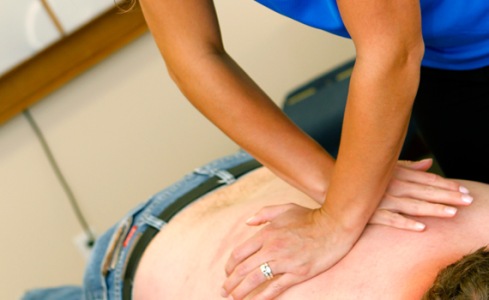 Furjes Chiropractic Office in St. Charles uses a number of highly-effective adjusting approaches to help improve spinal biomechanics and reduce nervous system interference. The approach we use is based on our judgment and years of experience.
Following are the primary adjusting techniques we use:
Diversified
After identifying which spinal bones have lost their normal motion or position, a specific manual thrust is administered to free up "stuck" joints.

Activator Methods®
This is a system of spinal evaluation combined with a handheld adjusting instrument that delivers a consistent, low-force thrust. Read more...

Cox
The Cox technique reverses the harmful effect of gravity on spinal discs and joints. It is meant to reverse a herniated disc condition--most often in the lower back.
Decompression
Our specially-equipped table will ever-so-slowly stretch your spine. And then relax it. Stretch. And relax. Excellent for disc cases.
Chiropractic flexion-distraction technique treats disc injuries involving back and leg pain. A specialized table is used to gently stretch the spine to isolate the problematic area.
Auricular medicine is a form of traditional Chinese medicine that practices the diagnosis and treatment of diseases by using points on the ear to conduct acupuncture. The technique is based on the idea that the outer ear is a representation of the body that can be treated by surface stimulation. This is very effective for stop smoking and weight loss...Very effective for gastro-intestinal problems

Acupuncture
The perfect adjunct to your chiropractic care, we use acupuncture for meridian balance, symptom relief and many organic health complaints. read more...
Massage
Long-standing spinal problems often accompany ingrained muscle patterns. Muscle spasms and scar tissue are often involved. Complementing your chiropractic care in St. Charles with massage therapy addresses these muscle and soft tissue problems.

Electrical Muscle Stimulation
We use this special type of low level electrical current to stimulate supporting muscles of your spine, reducing inflammation and spasm.
Extremities
While many health problems can be traced to the spine, wrists, elbows, shoulders, knees other joints of the body can be helped.
Corrective Exercises
Through assessing movement patterns and perscribing corrective exercises, we can improve the way our patients move and perform everything from daily activites to high level sports performance.
Contact Furjes Chiropractic Office in St. Charles to Schedule your visit

---
Dr. Stephen Furjes, Chiropractor, 222 S. 2ND. Street, St. CHARLES, MO 63301 636-947-9111